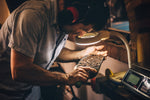 Roasting brings out the aroma and flavor that is locked inside the green coffee beans. Beans are stored green, a state in which they can be kept without loss of quality or taste.  A green bean has none of the characteristics of a roasted bean -- it's soft and spongy to the bite and smells grassy. Roasting causes chemical changes to take place as the beans are rapidly brought to very high temperatures. When they reach the peak of perfection, they are quickly cooled to stop the process. Roasted beans smell like coffee and weigh less because the moisture has been roasted...
---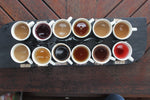 Ah, coffee! A good cup of freshly brewed coffee is what fuels our minds, helps us unwind, and gives us that good kick that we often need to get through a day or wind down for the night. While some of us simply rely on the caffeine fix, others appreciate coffee for its taste and unique blends, making them coffee connoisseurs who are continuously on the hunt for beans and grounds that offer an original and supreme tasting experience. This is where Sunday Morning Coffee excels! If you enjoy a quality brew and find yourself wondering where the coffee beans...
---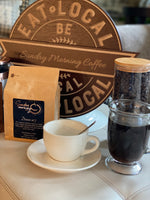 Owning a coffee business has been a 25-year dream of mine. There is something wonderful about that beautiful dark pour into a wide mouth cup as the steam dances into its own elevation. The aroma of fresh roasted beans dominating every corner of a room, as it lifts the eyebrows of even the most discriminating taste is the essence of the coffee experience! Fascinated by the quest to find the highest quality coffee beans, I've visited coffee shops, cafes, hotels, B&Bs, and kiosks throughout the country and abroad in search of the most luxurious dark roast, full bodied medium roast,...