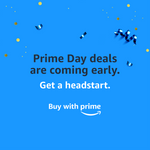 Sunday Morning Coffee, the renowned brand known for its luxurious and carefully sourced coffees, is excited to announce its participation in the upcoming Prime Day 2023.
Coffee lovers around the world can now rejoice as they have the opportunity to experience the exceptional flavors of Sunday Morning Coffee with the added convenience of Amazon Buy With Prime.
Don't miss out on the opportunity to savor the indulgent experience of Sunday Morning Coffee on Prime Day 2023.
Treat yourself to the finest coffees, carefully curated and conveniently available through Amazon Buy With Prime. Join the global community of coffee enthusiasts and elevate your coffee moments with Sunday Morning Coffee's extraordinary blends.