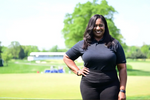 When Savannah Mitchell founded Sunday Morning Coffee Company in 2021, she knew gaining traction in the male-dominated industry would be a challenge. What Mitchell didn't realize however, was just how quickly her business would grow due to its focus on the culture of the coffee experience as opposed to simply serving a cup of coffee.
The e-commerce business now has 14 luxurious blends that are sold to companies and customers across the country through her website and major retailers including Amazon, Staples and Wegmans.
As Mitchell's business has grown, so too have the opportunities to expand her footprint. For example, through the LPGA VendorMatch program, which sources local and diverse suppliers for select tournaments and LPGA headquarters, Sunday Morning Coffee Company supplied all the coffee for the 2023 Cognizant Founders Cup in Clifton, New Jersey.
"The LPGA VendorMatch really is a dream for a small or new business," said Mitchell. "Being able to collaborate with major organizations like this can change the trajectory of a company."
Being selected for an opportunity like this is one thing, but seeing everything come together in person is another. As a black- and woman-owned business, Sunday Morning Coffee Company takes advantage of every opportunity to grow its brand and shatter that glass ceiling.
"It's just unimaginable to know that something that started as an opportunity became real," said Mitchell. "Our team has been celebrating all year because we felt really good about this opportunity. It's just been surreal, and the LPGA has just been a dynamic collaboration for us."
See more at LPGA Women's Network.