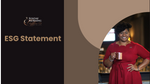 THE ENVIRONMENT
We commit to transparency in our supply chain.
We commit to traceability of our products.
We commit to sourcing sustainable products (for people and planet) in our agricultural supply chain.
SOCIAL
We commit to social investments in the community to make a positive impact on the communities we serve, and across the globe.
We commit to the selection of individual ingredients that can address as many dietary concerns as possible for our consumers.
GOVERNANCE
We will maintain a steadfast commitment to consumer protection throughout all company decisions.
We will engage in responsible business practices.
We commit to supply chain visibility and efficiencies.
We commit to regulatory compliance and food safety.
We commit to GS1 supply chain standards.
We commit to providing as much and as detailed product information as is feasible.