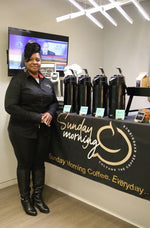 Black and woman-owned Sunday Morning Coffee Company celebrates the culture of coffee
Savannah Mitchell has long been fascinated by coffee, but there was a time where she did not know she could have a profession in it. 
After studying hospitality management at Howard University, Mitchell held various jobs to support her family, but her desire to work in the coffee industry persisted. 
She interned at black-owned bed and breakfast Akwaaba in D.C. for a few summers, and after her experience she was sure that one day she would open her own coffee company. 
"The entrepreneurial bug would not leave me alone. It wrestled me literally night and day, I couldn't stay away from it," said Mitchell.
Just before the COVID-19 pandemic shut down Maryland, Mitchell considered buying a brick-and-mortar establishment to house her coffee company. However, the purchase of the property was halted.
At first, Mitchell felt frustrated, but she has been grateful in the long run that she did not end up buying the space.
In 2021, she launched Sunday Morning Coffee Company as an e-commerce business, which helped her to minimize startup costs. 
" differentiates itself because we focus on the culture of the coffee experience, not just a cup of coffee, which is super important to us," said Mitchell. "The culture of coffee is experiencing the region of your bean, the quality of the body of the bean, the aroma of the bean and the emphasis on the moment as you're drinking your cup of what we call 'black gold.'" 
Sunday Morning Coffee Company sources its beans from Ethiopia, Kenya, Jamaica, Costa Rica and Brazil. The beans are roasted locally by companies that use fair and direct trade policies to ensure farmers use ethical labor. It also partners with growers that provide alternative wages for people living in regions experiencing political and social conflict. 
Out of the 10 blends, Mitchell's favorite is the Bellissima, a dark roast, smooth espresso that combines South American and Indonesian coffees. 
In spite of the fact that the coffee industry is White and male-dominated, Mitchell said she is comfortable being one of the few Black women in the U.S. running a coffee company. 
Although, she has faced considerable challenges when it comes to accessing capital. Currently, Mitchell is trying to raise funds to open a brick-and-mortar space for Sunday Morning Coffee Company in Downtown Baltimore. 
When she's finally able to open the doors to the public, she wants the space to be a sophisticated coffee lounge where business meetings can be held, families and friends can celebrate and people can escape their everyday lives.  
"One of the objectives is to educate, especially, the Black and Brown community about the power of coffee," said Mitchell. "Coffee brings countries together. Coffee heals relationships. Coffee seals deals. It's a powerful source and a powerful resource."
-
This article was originally published on Afro Magazine