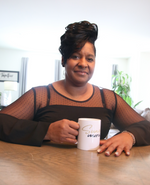 Sunday Morning is thrilled to announce the upcoming release of our newest blends to the Sunday Morning Coffee family! First up…Ms. Emma, a specially curated blend paying tribute to Savannah's mother, who left behind a legacy of style, sophistication, and strength when she died a year ago. Ms. Emma, as she was affectionately called, was a proud woman who did not allow her modesty to be mistaken for weakness. Thus, her namesake coffee! Ms. Emma is smooth, aromatic, and delivers a robust kick to help jumpstart any morning. This is sure to be a fan favorite!
Next, we have Southern Charm, strategically released as we get closer to the warmer holidays and celebrations. Southern Charm is hospitality at its best! This beautiful medium roasted blend of herbal notes and blackberry finish will remind you of decadent fields of southern wildflowers in a cup. Perfect for an easy morning, a golden sunset, or a star-gazing night. 
And finally, our glorious Summer Morning blend! This coffee is like a gentle breeze on a clear day. A dark roasted wonderful experience of our finest Colombian coffee is grown in the highest altitudes of the Finca La Meseta. Summer Morning creates a full-flavored cup with a medley of caramel and nuts and is a must-have for coffee connoisseurs.
Serving only the best coffees matters to us here at Sunday Morning Coffee. We buy our beans only from the finest coffee regions of the world because the beans must be consistent for the flavor to be best.
Our roasters continually garner high marks from some of the nation's most respected coffee certification programs. Our roasters have earned the Fair Trade Certified Seal, which represents our commitment to environmental, social, and economic sustainability and the Rainforest Alliance, adhering to the environmentally friendly organic farming standards.
We are proud to provide our valuable customers with another line of premium, high quality coffees.