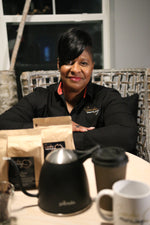 Black Americans are distinctly under-represented in the coffee industry, as both customers and entrepreneurs. In the U.S., African Americans are the least likely ethnic group to drink coffee regularly, according to 2019 research from the National Coffee Association, a market research and lobbying organization. The lack of available information about the history of Blacks and coffee contributes a significant role to these statistics.
However, there is a new wave of coffee happening that is mission-focused in making coffee more accessible and available to everyone. When the urge for a cup of perfectly brewed coffee strikes, the first venue is no longer the mass-producing, commercialized shops that are in every major city throughout the country. Black-owned coffee brands, roasters and cafes are popping up in record numbers across the nation. These companies are driven to satisfy your latte, espresso, or chai tea cravings with socially conscious and environmentally minded, sourced premium beans from around the globe.
There are plentiful notable Black-owned roasters and coffee brands that are working to shift the dialogue and remind consumers of the Black historical contributions and origins with coffee before it became a part of our everyday lives. Showing support to Black-owned companies and brands can help a great deal in changing the perspectives of millions, especially towards the Black community. If you are a coffee-lover, there are several brands you can support, online and in your community, one such company is Sunday Morning Coffee.
Sunday Morning Coffee is a certified Black Woman-Owned Limited Liability Company. The business is a 25-year dream of the owner, Savannah Mitchell, who has more than two decades in the culinary and hospitality industries. Savannah received her education at Howard University where she majored in Business Administration with the focus of Hospitality Management. She knew her dreams would be materialized when she interned at the university's own hotel, called the Howard Inn. Savannah experienced sheer joy during her internship observing customers, who were made to feel uniquely special, simply by providing high quality food service with sophisticated hospitality.  The dream was set in motion and years later the Sunday Morning Coffee Company was born. Coffee, one of the world's greatest equalizers, is the heartbeat of hospitality. Think about the aroma of fresh roasted coffee beans; the beautiful dark pour into your favorite cup as you watch the steam elegantly dance into the heavens. This is the visual of Sunday Morning Coffee! We offer the most luxurious dark roast, full bodied medium roast, and robust light roast coffees from quality and responsible farmers from Ethiopia, Kenya, Vietnam, Colombia, Brazil, and other global partners. We then roast the beans locally, so when you indulge in a Sunday Morning Coffee, you experience day of ordering freshness and the authentic culture of our premium beans. We have also placed a high priority in social consciousness with all our products. We only use roasters who practice fair trade and direct trade to ensure coffee bean growers use ethical labor practices. Additionally, we prioritize shade-grown Arabica beans that keep tree coverage intact for wildlife. 
We are committed to our customers and the environment in providing the quintessential experience of Sunday Morning Coffee every day, in every cup.
You can find us and place your orders online at:
AMAZON and on all the social media platforms!
Or just give us a call at:
(866AMCOFFEE)
866-262-6333