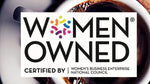 SUNDAY MORNING COFFEE COMPANY Certified by: Women's Business Enterprise National Council 
December 22, 2021—SUNDAY MORNING COFFEE COMPANY, a business specializing in premium artisan coffees, and event tastings and pairings, is proud to announce national certification as a Women's Business Enterprise by the WBENC Greater DMV, a regional certifying partner of the Women's Business Enterprise National Council (WBENC).
Owner Savannah Mitchell recites one of her favorite quotes by Benjamin Franklin when thinking about why she wanted to become WBENC certified. The quote says, "If better is possible, good is not enough". This summarizes the "why" for becoming certified with one of the most effective and impactful organizations specifically focused on empowering women business owners. 
The WBENC standard of certification implemented by the WBENC Greater DMV, is a meticulous process including an in-depth review of the business and site inspection. The certification process is designed to confirm the business is at least 51% owned, operated, and controlled by a woman or women.
By including women-owned businesses among their suppliers, corporations and government agencies demonstrate their commitment to fostering diversity and the continued development of their supplier diversity programs.
To learn more about SUNDAY MORNING COFFEE COMPANY, please visit sundaymorningroast.com
About SUNDAY MORNING COFFEE COMPANY:
Owning a coffee business was a 25-year dream of Savannah Mitchell, the owner of Sunday Morning Coffee Company. Think about the aroma of fresh roasted coffee beans; the beautiful dark pour into your favorite cup as you watch the steam dance into the heavens. This is Sunday Morning Coffee! We offer the most luxurious dark roast, full bodied medium roast, and robust light roast coffees from the highest quality farmers from around the globe. When you indulge in a Sunday Morning Coffee, you experience the authentic culture of our coffees. We roast our coffee beans the day you place your order! We take this extra step because we are committed to the quintessential experience of Sunday Morning Coffee every day, in every cup.
You can find us and place your orders online at:
or on AMAZON!
Or just give us a call at:
(866AMCOFFEE)
866-262-6333
About WBENC:
Founded in 1997, WBENC is the nation's leader in women's business development and the leading third-party certifier of businesses owned and operated by women, with more than 17,000 certified Women's Business Enterprises, 14 national Regional Partner Organizations, and more than 350 Corporate Members. More than 1,000 corporations representing America's most prestigious brands as well as many states, cities, and other entities accept WBENC Certification. For more information, visit www.wbenc.org.