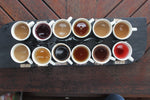 Ah, coffee! A good cup of freshly brewed coffee is what fuels our minds, helps us unwind, and gives us that good kick that we often need to get through a day or wind down for the night. While some of us simply rely on the caffeine fix, others appreciate coffee for its taste and unique blends, making them coffee connoisseurs who are continuously on the hunt for beans and grounds that offer an original and supreme tasting experience. This is where Sunday Morning Coffee excels!
If you enjoy a quality brew and find yourself wondering where the coffee beans came from, how the beans were roasted and what was used to make the amazing cup of coffee you're drinking, then a Sunday Morning Coffee Tasting is in order!
Our tastings demonstrate several techniques that infuse coffee beans with water to get the ultimate taste from your coffee. While there are numerous ways to make a delicious hot cup of coffee, here are a few of the options you will experience at a Sunday Morning Coffee Tasting:
Instant coffee

 

Filter coffee

 

French Press
Percolator
To better appreciate and describe your cup of coffee, you will learn coffee etiquette, terminology, and experience recommended pairings. We provide delectable baked goods and hors d'oeuvres to enhance your tasting experience. 
Our clients walk away using terms such as, Aroma, Acidity, Flavor, and Body when tasting all the varieties of Sunday Morning coffees. You will sound like an expert and feel great about learning about the fascinating coffee industry while sharing quality time with your family, friends, and colleagues.  
Coffee tastings are excellent Team Building activities.
Types of Roast
How you roast coffee beans and how long you roast them for plays a huge role in the final coffee blend. Lighter roasts tend to have a more natural flavour while darker roasts have a distinguished "roasted" taste. Roasts are divided into light, medium and dark.
Light Roasts – Lighter roasts are roasted at lower temperatures and just long enough to open up the flavour of the beans. This means that they often have a sweet and grassy taste and are slightly more acid than stronger roasts.  Light roasts are sometimes referred to as Half City, Light City, New England, or Cinnamon roasts and are mostly used for specialty and higher-quality blends.
Medium Roasts – Medium roasts are roasted at higher temperatures until they are much darker and colour. While roasting, the beans balance out their acidity and natural flavour for a smoother blend of coffee. Medium roasts also retain a sweetness and are perfect to use for a cold brew in lieu of hot beverages come summer time.
Dark Roasts –Heated at high temperatures for quite some time, these beans are cooked until they are almost black in colour. Darker roasts tend to have more of a "roasted" taste since the heat removes almost all of the natural and raw flavours. These roasts usually end up caramelised, leaving a smoky taste on one's palate. Darker roasts are more popularly used for Espressos.
And then, of course, coffee is not coffee until you've brewed your blend to perfection. The type of 
coffee maker
 you use will either enhance or degrade the taste of your blend. Let's explore your options.