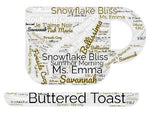 One of the most frequently asked questions we receive is - how did you come up with the names of your blends? We love this question and decided to tell you about it right here!
Bellissima
- I love Italian culture, food, and the expressive passion of the community. Everything is beautiful - Bellissima!
Buttered Toast
 - Very few things in life are simple and satisfying at the same time. A slice of warm toast with butter is one of those things! This blend is a reminder of how wonderful, easy, and delicious life can be.
Dakota's Reserve
 - Dakota is a fearless and dynamic woman. She surrounds herself with only the best. She keeps her universe together by sharing her reserve with those whom she values. When you drink this coffee, you will experience self-worth increasing. 
Dinner at 7
 - What's the first reaction that usually happens when you find out that you have dinner reservations at 7? An unrelenting smile! This is the same reaction you will experience when you drink this outstanding mocha-java blend!
Fireside Cozy
- Nestled next to a warm fire with your favorite...on a brisk day - life is good. The cinnamon vanilla in this amazing blend makes even the most diehard summer fans look forward to Fall and Winter.
Je T'aime Noir
 - The French have a way of making everything sound intriguing! I want all our customers to try this strong and smooth dark French roast with confidence, so the name was really important. I love black is the translation of this incredible fan favorite and it does not disappoint.
Ms. Emma
- The matriarch of our family and named for my Mother. She was sophisticated, and proud and you knew she was in the room before she spoke a word. Our Ms. Emma coffee lives up to her name! Our most aromatic blend stops everyone in their tracks and keeps them coming back for more.
Savannah
 - An open canopy of nature's ecosystem where everything can receive light. This definition is synonymous with my own life's philosophy. My namesake's blend is an invitation to embrace the greatest you inside a cup.
Southern Charm
- Home cooking, sunny days, fields of wildflowers, a tip of the hat, a welcoming smile...these are the characteristics and notes of this beautiful blend of happiness. You are certain to be charmed.
Summer Morning
 - The dawning of a new warm day filled with the sounds and fragrances of nature's beauty is what came to mind when I first sipped this glorious blend. Summer Morning captures the essence of the experience.
Tiah Maria
 - We bought together a Greek Goddess, Tiah and the Latin Star of the Sea, Maria to name the most perfect Colombian roast you will ever put in a cup! Tiah Maria has been our #1 seller for two years in a row.

There you have it! Stay tuned for more upcoming stories as we name the new blends!