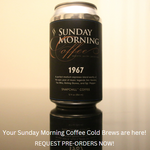 It was reminiscent of what we did in 2018. A small group of taste testers gathered in my living room and launched the trajectory of Sunday Morning's first line of luxurious coffee blends. Well, it happened again!

Introducing Sunday Morning 1967 Cold Brew! The same Smooth...Sultry...Satisfying 1967 coffee is now available as a Cold Brew!

Pre-orders are being taken now! Complete this form here:
https://fs21.formsite.com/eSEWwC/dwkksarfuc/index

OR
Submit your name, email, and number of cans (6, 12, or cases of 24) you would like to order to:  customerservice@sundaymorningroast.com. You will be contacted immediately for your shipping address and form of payment. 
We can't wait to hear from You about this amazing Cold Brew!