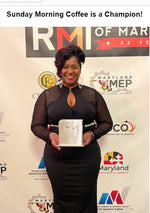 Sunday Morning Coffee is a Champion!
Sunday Morning Coffee Company (SMC) was honored to receive the 2022 Maryland Women in Manufacturing Champion Award on Thursday,
November 17, 2022. The event was filled with over 750 local businesses making history in various industries being honored for demonstrating extraordinary innovation, leadership and growth.