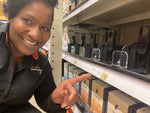 Black woman-owned brand pioneering coffee industry while educating customers about the Black culture and history of coffee.
Washington, D.C. -- Sunday Morning Coffee Company, a Black and woman-owned specialty premium coffee brand, made its debut in Washington, D.C.'s first Wegmans Food Market in Tenleytown.   
"As a Black woman-owned business, we're excited to partner with Wegmans to provide even more customers with high-quality coffee that reflects integrity, sophistication, and a superior experience." says Savannah Mitchell, founder and CEO of Sunday Morning Coffee Company.
"This is much bigger than just dark liquid in a cup, I want to educate Black and Brown communities about the socioeconomic power of coffee." 
Sunday Morning's mission is to create easy moments for coffee lovers to experience. The company upholds this commitment by providing luxurious, premium blends, such as Bellissima (Espresso), Dakota's Reserve (Mocha-Java), and Tiah Maria (Colombian), that grace Wegmans shelves among several well-known national coffee labels. The smooth, sultry, and satisfying blends are available in 12-ounce, ground, and whole bean bags, featuring sustainable packaging and certified Fair Trade local roasters. 
Only nine percent of coffee roasters are black and only 24 percent of all roasters are women.  Sunday Morning's beans are roasted locally and are cultivated in the top coffee growing regions in the world, such as Ethiopia, Kenya, Vietnam, Colombia, Brazil, Honduras, and other global partners. 
"I believe people are empowered by knowledge. Educating the community about the etymology and significance of the coffee bean is a top priority", says Mitchell, stating that coffee was a high value commodity before, during and post slavery and widely exported by African leaders to many European nations.
Founded in 2021, Sunday Morning Coffee is a WBENC certified Women Business Enterprise (WBE) and certified Black-owned company that offers the most luxurious dark roast, full-bodied medium roast, and robust light roast coffees.
For more information, visit https://sundaymorningroast.com/
Savannah Mitchell meets with Colleen Wegman, the president & CEO of Wegmans, sharing Sunday Morning stories with her!