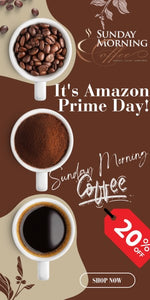 In the world of business, there are moments that define an entrepreneur's journey, moments that stand as milestones of achievement and recognition. For Savannah, the founder of Sunday Morning Coffee Company, one such moment has arrived – an invitation from Amazon to showcase her innovative brand through Buy with Prime.
A Partnership Beyond Ordinary
Amazon, a global e-commerce giant, has long been a platform for entrepreneurs and businesses to reach a vast audience. Buy with Prime, one of Amazon's groundbreaking initiatives, enables Prime members and other businesses to discover and support innovative brands. It's a platform that not only brings exceptional products to consumers but also highlights the incredible stories behind these brands.
For Sunday Morning Coffee, this partnership signifies a powerful opportunity. It's a chance for this unique coffee company to shine on a global stage, reaching millions of potential customers who value quality, sustainability, and community engagement.
From Coffee Beans to Camera Scenes
The excitement doesn't stop at the partnership itself. Savannah will be jetting off to the picturesque city of Seattle, Washington, in September. There, she'll take part in a video production that will capture the essence of Sunday Morning Coffee and its journey with Buy with Prime.
These 3-5 video clips will not only showcase the brand but also highlight the remarkable journey and results that have been achieved through this collaboration. These clips will find their way onto Amazon's various marketing channels, including their website, LinkedIn, and YouTube. It's a platform that has the potential to introduce Sunday Morning Coffee to a global audience, sharing its mission, values, and, of course, its exceptional coffee.
A Journey Worth Celebrating
This invitation from Amazon is not just a recognition of Savannah's hard work and dedication but also a celebration of what Sunday Morning Coffee represents. It's a brand that's committed to quality, sustainability, and community engagement. It's a brand with a story, one that resonates with coffee lovers and those who appreciate the finer things in life.
As Savannah prepares to embark on this exciting journey to Seattle, the entire Sunday Morning Coffee community eagerly awaits the unfolding of this remarkable chapter. It's a moment that not only celebrates success but also inspires others to pursue their entrepreneurial dreams, knowing that with passion, dedication, and innovation, anything is possible.
Stay tuned for more updates as Sunday Morning Coffee takes center stage in the world of e-commerce, proving that exceptional coffee and a commitment to values can truly make a difference.
Cheers to Sunday Morning Coffee and the bright future ahead! ☕🌟
#SundayMorningCoffee #BuyWithPrime #AmazonPartner