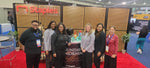 The stage was set, and the energy was palpable as the 2023 National Minority Supplier Development Council (NMSDC) Conference descended upon the vibrant city of Baltimore. This year, the event held even greater significance as it marked a special moment for Sunday Morning Coffee, one of the nation's premier coffee suppliers. Our journey at the conference was nothing short of spectacular, with an unforgettable experience that spanned two remarkable days.
The Staples Pavilion: A Hub of Innovation and Diversity
Amid the bustling atmosphere of the NMSDC Conference, the Staples Pavilion emerged as a focal point of innovation and diversity. Sunday Morning Coffee, known for its commitment to quality and inclusivity, found itself at the heart of this vibrant hub.
Drawing Crowds and Turning Heads
From the moment the doors swung open, it was clear that something remarkable was happening at the Staples Pavilion. Sunday Morning Coffee's presence ignited curiosity and excitement, drawing crowds for two consecutive days. The aroma of our freshly brewed, premium coffee blends wafted through the air, luring conference attendees from all corners of the event. It was more than just a booth; it was an experience.
A Gathering of Sunday Morning Coffee Lovers
One of the most heartwarming aspects of the 2023 NMSDC Conference was the gathering of Sunday Morning Coffee lovers from across the country. With wide smiles and enthusiastic conversations, our loyal customers and newfound admirers flocked to see us. They weren't just there to say hello; they came to stock up on their favorite bags of Sunday Morning Coffee.
New Connections, New Opportunities
The conference was more than a celebration of past achievements; it was a gateway to new horizons. Sunday Morning Coffee's presence at the Staples Pavilion opened doors to connect with countless individuals and organizations from every corner of the United States. We forged new relationships, gained many new clients and customers, and created lasting impressions.
Diversity, Quality, and Commitment
Sunday Morning Coffee has always been dedicated to the values of diversity and quality. Our commitment to these principles was truly embodied at the NMSDC Conference. The event showcased the richness of diverse businesses and underscored the importance of fostering inclusive partnerships. Sunday Morning Coffee stands as a testament to the power of these values.
The Future of Sunday Morning Coffee
As we reflect on the remarkable success of the 2023 NMSDC Conference, we can't help but feel inspired. It's a reminder of why we do what we do — to share exceptional coffee while championing diversity and excellence. This event was a beacon of hope, uniting people from all walks of life in celebration of business and community.
With new clients and friends in tow, Sunday Morning Coffee is emboldened to continue its journey of serving premium coffee to an ever-widening audience. The 2023 NMSDC Conference was a milestone, but it's just the beginning of a future filled with great coffee, new connections, and boundless opportunities.
From all of us at Sunday Morning Coffee, we extend our heartfelt thanks to everyone who shared this incredible journey at the NMSDC Conference. Together, we are brewing success, one cup at a time.